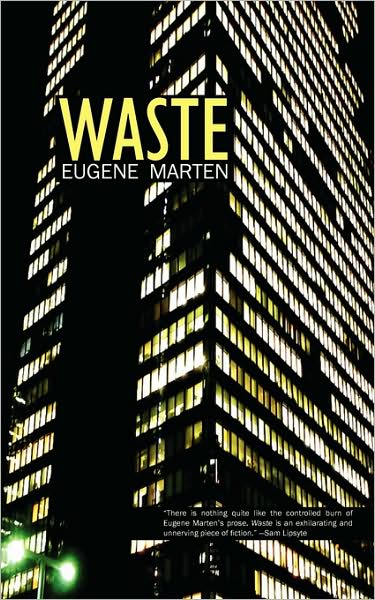 ISBN 978-0-9637563-1-8 | Fiction | 116 pages | $10 + shipping
Or buy through Small Press Distribution,
your local independent bookstore,
Powell's, Amazon or Barnes & Noble.
Review on Goodreads.
Praise for Waste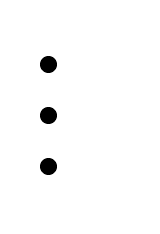 Dark and difficult, with clipped sentences and pungent passages, [Waste] concerns a janitor whose use of office workers' waste and personal objects is queasy…. a look at humanity from the slick insides of a wastebasket.
Angle: a Journal of Arts + Culture
Only Eugene Marten can keep a reader enthralled with the minutiae of a janitorial existence. From the most unlikely of subjects Marten constructs, with great care and taking joy in every sentence, a spellbinding work. Precisely and exquisitely detailed, Waste is a stark little masterpiece.
–Brian Evenson

There is nothing quite like the controlled burn of Eugene Marten's prose. Waste is an exhilarating and unnerving piece of fiction.
–Sam Lipsyte

When a poet pal had put a copy of Waste into my hands, I right away went nuts until I had gotten myself in touch with its author for to add to my household a supply of enough copies to scare all my writer friends with. Here, said I, in wild proclamation, is one for history and a half.
–Gordon Lish

This is surely one of the darkest and most jarring books I've read. It is also pitch-perfect. Waste wastes nothing–not a syllable, a beat, a ragged breath.
–Dawn Raffel
Reviews:
Reading Eugene Marten's Waste is like reading the margins of Then We Came to the End…
—Steve Himmer
Eugene Marten is a writer's writer… his books provoking the sort of breathless admiration usually reserved for the deceased.
—Vanessa Place in American Book Review
I will read anything [of] Eugene Marten's for the rest of my life… His sentences are sentences in the realest application of the word, in that each one kind of condemns itself on the paper or in you in your own mind.
—Blake Butler
Waste is a novel that will stay with you even after you've finished its slim pages, its powerful stench sticking to you long after you've put it aside.
—Matt Bell on NewPages.com
A cult classic.
—Time Out New York
[T]he banality of the day-to-day workaday eccentricities of a troubled janitor's lonely life is recorded with devastating precision… One might think that mentioning the novella's startling nods to "A Rose for Emily" and Psycho, would ruin its surprises, but the details of Waste's strengths lay not beneath a spoiler alert but within its acute attention to language, its profound empathy and understanding for its protagonist, and its underlying critique of the endless cycle of consumption and waste.
—John Madera at WordRiot
With unnerving clarity and precision, Marten starkly executes a chilling portrait of loneliness and anonymity, reminding us, in the process, that that which we might ever so casually discard and dismiss may not necessarily respond so casually in kind.
—Geoffrey Brown in the Ottawa XPress
[A] brutal, disturbing little novel that works beautifully both for those who read for story and those who read for the artistry—or at least those who read for those things but who can deal with a shocking amount of physical and psychological trauma distilled down into sharp, tight sentences.
—The Quarterly Conversation
Eugene Marten writes with a chiseled flair that is basically unheard of in today's fiction market…
—Jason Rice on Three Guys One Book
About Eugene Marten
Marten's novel In the Blind was published by Turtle Point Press in 2003. He lives in Harlem.
Hear Eugene Marten read from Waste here.
Read an excerpt. Or buy through Small Press Distribution,
your local independent bookstore,
Powell's, Amazon or Barnes & Noble.
Review on Goodreads.